OFFICIAL SITE OF MY OWN GHOST
Our new song 'Footprints In The Sand' is out now! You can stream it on all digital platforms.
A central theme of the new song is the 'We', the strength and power one can have as a community of people together.
Video by: Ingo Spörl/Hard Media
Coverartwork by: Daniele Gasparini/Skie Graphic Studio
Our new single 'Footprints In The Sand' will be released in exactly 3 weeks on September 24th, 2021! We're pretty excited to share some new music with you! So please save the date and stay tuned for more info.
Another show added! This will be our first show in what seems like forever, so we're pretty excited to finally get back into action at the Backpackers INN in Einbeck. If you're somewhere around Lower Saxony, please join us for a cozy night.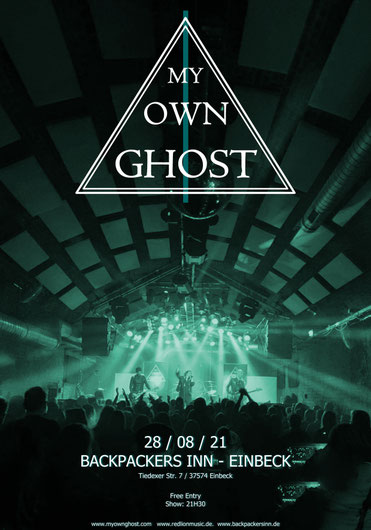 We are excited to share the news that we'll be playing a special show at the amazing Backstage in Munich on September 29th. We hope to see a lot of old and new faces to share this nice evening with us! So please head over to the event (link below) and secure your tickets.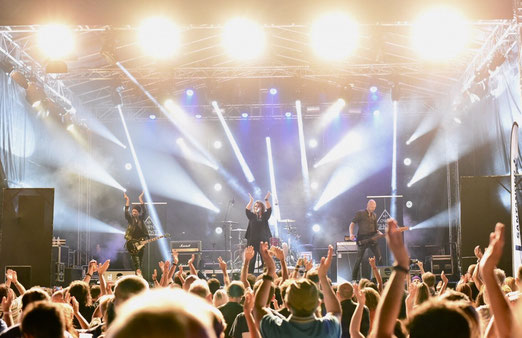 We are delighted to have one of our songs on this nice compilation from our friends at Percy's Cafe Bar in Whitchurch! The proceeds will hopefully help Percy's Bar to survive the crisis. So if someday you happen to be around Whitchurch, please visit this unique and charming venue. 

NOW THAT'S WHAT I CALL PERCY'S... INDIE/ALTERNATIVE Volume 1! 20 Track compilation featuring songs by Blue Nation, Black Bear Kiss, Wolfpeake, DEADLINE 54, Skewwhiff, Ed Strong, Shop Front Heroes, Giant & The Georges, Run Into The Night, The Hallows, Cement Ship, Paul Henshaw Music, Savannah UK , The Magic Es, Dead Agents, NESH, My Own Ghost, Rachael Sage, The Sign and Bluebyrd!

The compilation is priced at £8 + (£1.53 p&p). To order a copy, please drop a message at Percy's Cafe Bar. Payment method is by way of PayPal to percys@live.co.uk.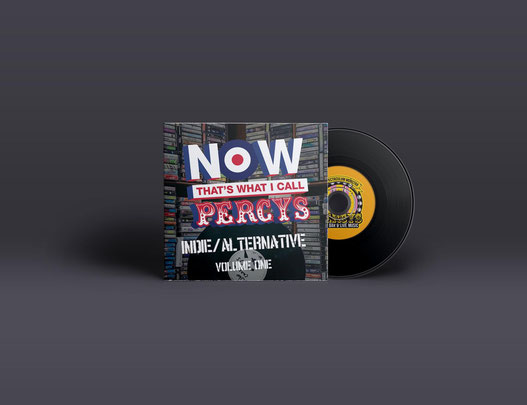 Save the date! On May 26th, we will be part of the Metal is Forever - Rockcast Show with host Ritchie Newton! It's a live interview with Q&A through YouTube's live chat. The show starts at 8pm CET time. So please join, hang out with us for an hour or two and ask us anything you ever wanted to know about My Own Ghost.

More details and links coming soon.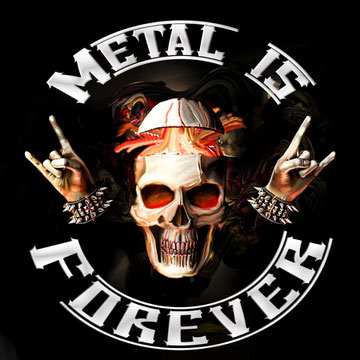 As spring is approaching fast, get ready for it with some nice shirts available in our shop! 
To finish 2020 on a more positive note we'd like to share some great moments with you. Take care, stay safe and we hope to create some new memories together with you in 2021. 
Happy New Year, Julie, David, Joe & Michael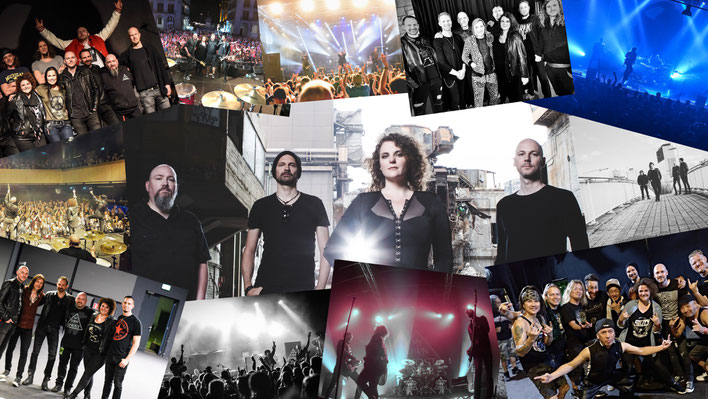 Great news from Finland: Hiili Hiilesmaa has finished the mix of our new album! It was a real pleasure for us to work again with him. Up next: mastering with Svante Forsbäck! We can't wait for you to hear the new songs. Until then, enjoy this tune from our second album as 'Life On Standby' seems to fit perfectly in these weird times.
We hope that everyone out there is still doing fine and in good health. We have been quiet for a while, but kept busy during these weird times. All the parts for our third album are now recorded. More updates in the next few weeks!
After 9500 km and 3 weeks on the road, another big adventure has come to an end. We had a great time, meeting a lot of new people and we want to thank Alex Band, Travis Loafman, Joey Clement and Daniel Thomson of The Calling, their whole crew as also our friends from Psycho Village and My Silent Bravery for the memories we made together. Big thanks to Michael Schoemer for filling in on drums and to our soundtech Julian Lambertz for doing an awesome job. A big shoutout also to the audiences in Germany, Italy, Switzerland and Austria, as well as REDLIONMUSIC and Fonds culturel national for making all of this possible.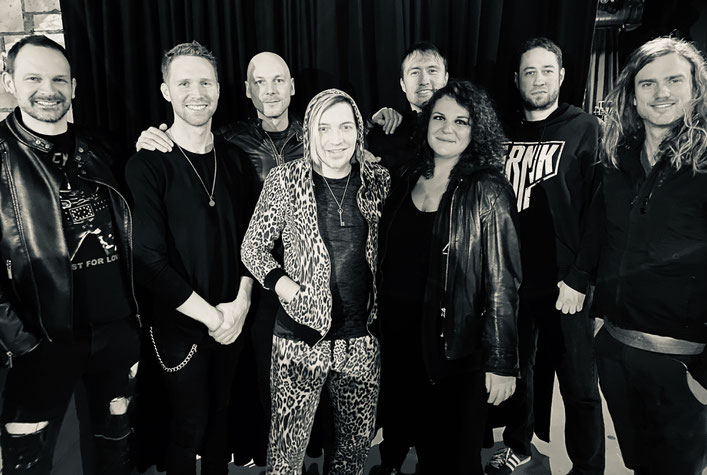 Happy New Year! We are looking forward to 2020 with a new album and hope to see you on the road in January with Alex Band of The Calling!

Photographer: Tim Tronckoe / Assistant: Lien Pauwels / Make-Up: Céline Feltgen

© Tim Tronckoe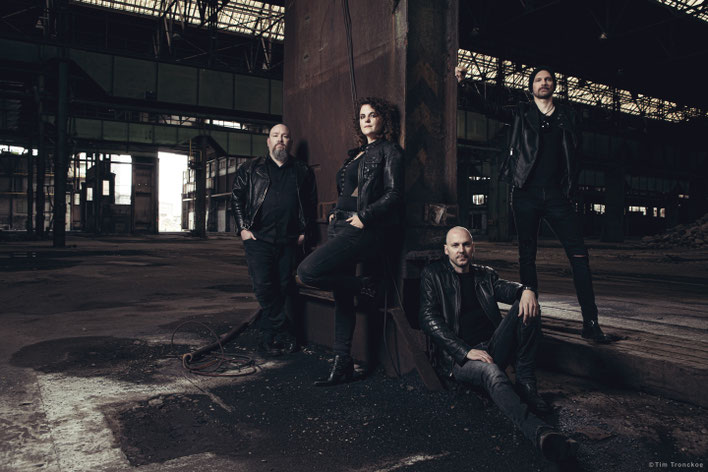 It is with great pleasure that we announce that once again we will be working together with Finnish producer Hiili Hiilesmaa!
Vocal recordings for our new album are coming along nicely.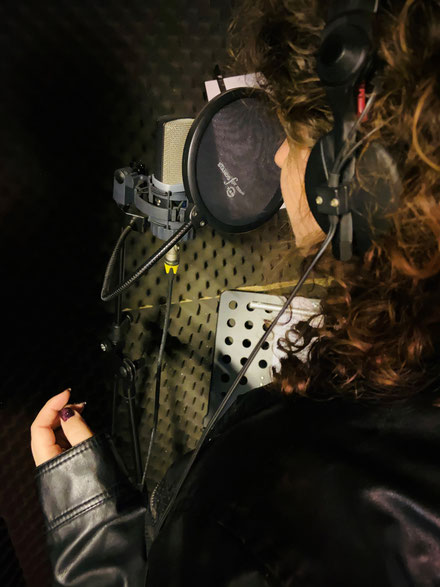 New promo picture! A big thank you to the one and only Tim Tronckoe and the fabulous Céline Feltgen for their great work.

Photographer: Tim Tronckoe
Assistant: Lien Pauwels
Hair & Make-Up: Céline Feltgen
Set: Josy Roll
© Tim Tronckoe
We are absolutely thrilled to have the opportunity to support Alex Band of The Calling on his European Tour in January 2020!

08.01 – München – Backstage
09.01 – Stuttgart – Wizemann
10.01 – Magdeburg – Factory
11.01 – Cham – L.A.
12.01 – Hannover – Faust
13.01 – Berlin – Privatclub
14.01 – Hamburg – Gruenspan
16.01 – Frankfurt – Nachtleben
17.01 – Memmingen – Kaminwerk
18.01 – Zürich – Hall Of Fame
19.01 – Nürnberg – Hirsch
21.01 – Bochum – Matrix
22.01 – Siegburg – Kubana
23.01 – Wien – Viper Room
24.01 – Graz – Explosiv
25.01 – Kufstein – Kultur Quartier
27.01 – Milan – Circolo Magnolia
28.01 – Rom – Orion Club
30.01 – Dornbirn – Conrad Sohm
31.01 – Konstanz – Kulturladen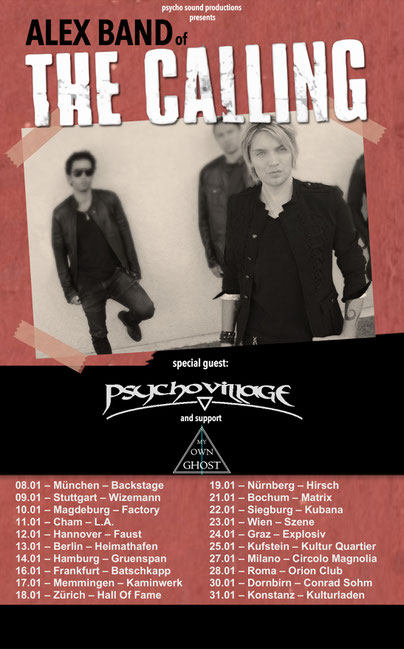 Enjoy your summer with some footage of our last tours and shows! Meanwhile, we continue to work hard on our third album!
'10 Weeks Of Summer' is from our second album 'Life On Standby'! You can get your copy of 'Life On Standby' on all digital music platforms and in our shop!
We are working hard on our 3rd album right now, more news on this as we get them! To shorten the wait, please enjoy 'Everytime I Break' from our second album 'Life On Standby'! You can get your copy of 'Life On Standby' on all digital music platforms and in our shop!